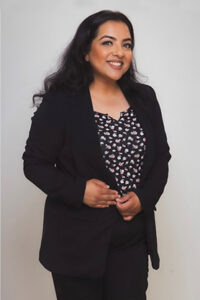 RABIA RAEES
Branding and Social Media Manager
CAREER BACKGROUND
Creative, Bold, Attentive, & Optimistic.
Rabia started her career in Banking in 2014,working as a Personal Banker to a relationship manager at various Banks. Within the years of her growth, she was able to identify her natural quality and biggest passion – interacting, assisting, and building working relationships with people of all different types of personalities. In 2020, the Covid-19 pandemic yearallowed her to make a career change into the fast-growing IT Recruitment industry, where sheentered a realm of opportunities toexpand her knowledge and role while also doing what she loves the most.Rabia is highly motivated to break the female norms in the corporate world by contributing results through her hard work, progressing year after year, and building a solid network of professionals.
Outside of her main job, she works independently with small businesses to help them grow through social media presence and strategizing to become bankable. She is keento support small businesses because she grew up helping her father run his own local vacuum shop, which was the primary income source that cultivated her and the family to where they are today. With that reality in mind, Rabia respects entrepreneurs and encourages small businesses to adapt to the rapidly evolving economy.